Three new Sims games have just been announced. The first is the final expansion to the Sims, It's called the Sims: Makin' Magic. This game will introduce spells and magic to the Sims, you'll be able to cast spells against unfriendly guests, provided you know them well. Also you can hire a skeleton maid to help around the house. And lastly you can go to a new SimWorld to get prizes for being spooky and casting the best spells. From what Maxis is telling us at The Sim Hut, it's sure to be a thriller.
Then there's the sequel to the Sims The Sims 2, this game will introduce a couple new things. Firstly there is a life cycle of your sims now. You start as a baby and grow to toddler/infant then to small child, then to teen then adult then you continue to grow older as the game progresses. Your parents now pass down DNA and Genes to their offspring, and last their are brand new items like a Game Console, more hot tubs and more stories than just 2. This is the next generation of sim gaming.
The Sims 2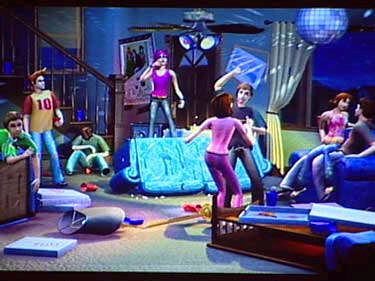 It's a Sims 2 Party!
Here's The Sim Hut's last piece of news, we have the expansion to The Sims for the PS2, it's called The Sims: Bustin' Out. It has a new SimWorld where your Sims can party all night long, there is a dance club and lots of new lots, The Sim Hut got a glimpse at it, and we think it's great! Coming out in early 2004 for the PS2, it's sure to be a huge success!